Client Testimonies
"Grace and Brandon are amazing people, let alone photographers, and their photography reflects this sentiment. Their photography is breathtakingly ethereal, momentously gorgeous, and deeply impactful. Grace and Brandon take the time necessary to get to know you in order to take pictures that represent who you are as individual people and as a couple. They sort out what's important to you and what your wedding is attempting to represent and pulls that out of you and the venue for the photography. If your plan is to have a wedding with depth, then Grace E. Jones photography is the only choice in the area. She and Brandon are worth every single penny and more. We left knowing we've made new friends, new inside jokes (CONFETTI MAN and HANNA HORSE), and a lifetime worth of the most beautiful memories. Don't shortchange yourself by going with anyone else."
"Grace and Brandon are amazing people, let alone photographers, and their photography reflects this sentiment. Their photography is breathtakingly ethereal, momentously gorgeous, and deeply impactful. Grace and Brandon take the time necessary to get to know you in order to take pictures that represent who you are as individual people and as a couple. They sort out what's important to you and what your wedding is attempting to represent and pulls that out of you and the venue for the photography. If your plan is to have a wedding with depth, then Grace E. Jones photography is the only choice in the area. She and Brandon are worth every single penny and more. We left knowing we've made new friends, new inside jokes (CONFETTI MAN and HANNA HORSE), and a lifetime worth of the most beautiful memories. Don't shortchange yourself by going with anyone else."
HANNA + BRIAN
"Grace and Brandon captured the personality of our wedding perfectly! I don't think we would have felt as comfortable being ourselves with any other photographers. We weren't considering getting a photo album for the wedding pictures, but they turned out so beautiful that I think we must! Can't wait until our next big life event so we can hire Grace and Brandon again!"
BRE + SMO
"I often joke about having a certain "spidey sense." Well, I had my spidey sense about Grace when I found her on Google, and boy, was I right. A year ago, I was struggling with what style of wedding photography I wanted for our special day and then I found it, as if by fate. I had a very specific vision of how I wanted our wedding day captured and the only way I could think to describe it was REAL. That's exactly what Grace does -- she captures those real moments and somehow, makes every single moment incredibly beautiful. Hiring her as our wedding photographer made me much more calm about the day because I knew, no matter rain or shine, she would capture the beauty and authenticity of the day. She and Brandon are an absolute joy to work with and our wedding photos are everything I ever dreamed of and more."
ANNIE + BRETT
"Grace is seriously THE BEST! We could not have asked for a better photographer for our wedding. She and Brandon are both so kind, professional, and personable. My husband and I felt so at ease (even though we are both naturally shy when it comes to being photographed). We are so grateful for our wedding photos and we loved our experience with Grace!"
ASHLEY + JON
"Grace and Brandon are so sweet! Amazingly talented and amazing to work with. I decided to plan our wedding in six months and was so lucky to find that they could still squeeze us in. They captured everything about our special day and then some, giving us memories to keep that will last forever. And talk about speed! I'm super impatient and Grace turned our photos so quickly. I was thrilled! All of my friends and family love how the photos turned out, too. My mom especially can't stop looking through them!"
NATALIE + KEVIN
"WOW. I cannot say enough good things about Grace (& Brandon)! It was SUCH A BLESSING to have Grace as both our engagement and wedding photographer. She went above and beyond to capture every beautiful moment and to make our wedding day run smoothly. She made the entire planning process A BREEZE - she was quick to respond to questions, to provide recommendations, and to help me create a smooth timeline for our day. Not only that, but she is SUCH A JOY to be around and made each photo shoot such a precious time - so much laughter and love!! Oh, and the actual photography? Her photos are OUT OF THIS WORLD and I will so treasure them! Not only that, but her turn-around time was crazy fast! Would recommend without a doubt, time and time again."
JOYCE + CODY
"Grace is absolutely wonderful. Before my boyfriend and I met her in LA, she had been communicating with us about our ideas and visions. It was our first photo session as a couple so we just decided to leave it all in her hands. Let me tell you, she did not disappoint. She is meticulous and sharp- always two steps ahead of you. She pays attention to the littlest details. Details that I wouldn't even pay mind to. But all these little details are what make the photo. She has a way of authentically making the goofiest and purest sides of you surface while capturing them before you even realize she's taking your photo. Being in front of a camera can be nerve-racking, but she makes you feel comfortable. And her editing is flawless! And quick! You can tell that all of this comes so naturally to her. Above all else, Grace is kind, fun, and full of passion for sharing the love and joy exemplified by those she photographs. Her and her husband Brandon are two of the sweetest people we've met and we would absolutely choose them again and again. Thanks for a great experience, Grace! We will forever be swooning over our photos!"
NICK + KRYSTAL
"We had a fantastic time with Grace as she photographed our wedding day! She went above and beyond to plan ahead of time, so that when the day came we felt comfortable and at ease. Her professionalism, positive attitude, and quirky sense of humor made for a fantastic experience. We are so pleased with our beautiful photos, cannot recommend her highly enough, and would hire her again in the future without hesitation."
MADELYN + JOHN
"Grace and Brandon were a DREAM to work with - Lawton and I were very picky when it came time to find a photographer, so we relied on the people who knew our style best. Our friends pointed us to Grace.
Grace caught every perfect moment we wanted and even those we didn't know we would cherish so much. All of our guests were so amazed to see Grace and Brandon EVERYWHERE. Seriously, they were everywhere at all times! They captured so much and worked so diligently to make the day perfect.
I thank my lucky stars to have found such a kind and amazing human, and I can't wait to see what our future holds -- I know I'll ask Grace to document it!"
AMBER + LAWTON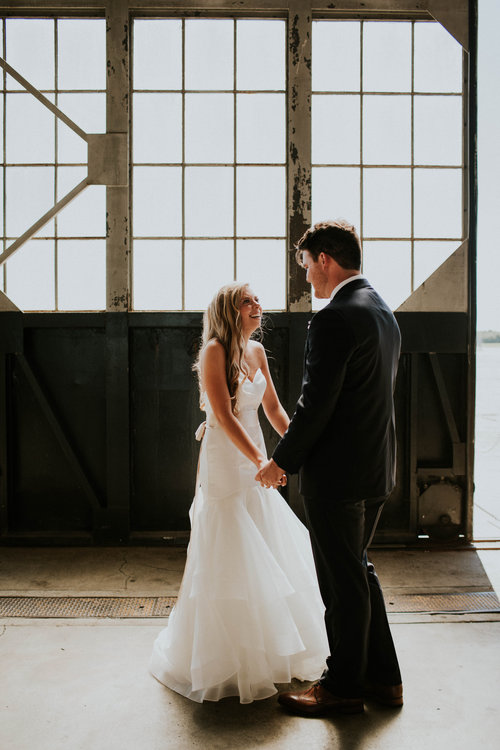 "Jordan and I had the best experience with Grace. She and Brandon did our wedding day, day after shoot, as well as their very FIRST wedding video and we couldn't be happier with how everything turned out! Her creativity and originality show through all of her work. We feel like our photos stand out from most wedding photography of today, which we love! Also, for our wedding video being the first they've made, it's truly amazing. We feel so blessed to be able to re-live that day over and over. For our day after shoot, we felt relaxed and were able to be ourselves because she made us feel comfortable. We had such a fun time! She was able to capture all the blissful and beautiful moments through her photography and videography for these shoots. We would recommend her to anyone and everyone. We feel very blessed and lucky to have these amazing moments captured forever by her."
JORDAN + RAVEN
"Working with Grace on our wedding day was amazing. Not only are her photos beautiful, but she is also very professional and efficient. It's so important to feel comfortable with your photographer for such an intimate occasion, and we definitely felt that way with Grace. Wedding days can be chaotic, but she keeps things moving in a calm and collected way. She goes the extra mile with her editing and delivery of the images, adding a personal touch for every couple she works with. Lots of people can "document" the moments of your wedding day through photos, but Grace really turns those moments into art."
ZACH + LAURAL
"Grace is one of the most incredible photographers I know, and I've been following her work for awhile now. She BLEW MY MIND with how she captured me + my love! Hands down the best photos of Jake and I and I still gawk over them daily. She made us feel so comfortable to be ourselves and captured our personalities perfectly. Such a sweet, down-to-earth person, and we love her!"
OLIVIA + JAKE
"Grace did an amazing job with our engagement photos in Joshua Tree National Park. She happily agreed to go the extra miles to photograph us in a place that is very near and dear to our hearts! We had a great and comfortable time during our session. Grace captured our little family (our dog was there too) perfectly and we couldn't be happier with the photos."
MERCEDES + MATT
"Grace is one of the most talented & passionate people I have ever met. She pays such close attention to what makes you as a couple special, then absolutely highlights that in her photos in ways you couldn't imagine. I just feel so lucky that we chose her as our wedding photographer! You can absolutely trust her with your vision for your day, & if I could re-do my day 50 more times, I would choose Grace every time! Her husband Brandon is incredibly talented as well, and makes such a great team mate to her."
MORGAN + JARED
"Out of all the vendors for our wedding. Grace took the cake with her wonderful photography. Her ability to capture who we are as a couple along with our friends and family is nothing short of amazing. She has a true talent and I would seek her out for any moments in your life that you want to capture."
STEPH + STEVE